Easy South Indian Murukku Recipe
Murukku is a popular Indian salty snack in the southern states of India. People combine flour from rice and black beans flour to form a paste. In the form of pasta, it is cooked in a spiral or wheel shape and then fried in oil. Murukku is seasoned with chili, cumin and onion powder. It is a staple of most households in South India and is also widely available for sale from roadside sellers throughout India. Some commercial producers have also started marketing the snack, both in India and in Europe and North America.
India's culinary culture offers a wide variety of appetizers and appetizer-type dishes. Salty snacks, such as Murukku, are known as chaat. Easy to make and easy to carry, Murukku is associated with the Deepavali or Diwali festival. Deepavali is a festival of lights that takes place every year in the Autumn. Diwali is above all, a time for families to come together. The exchange of appetizers and desserts is a big part of the celebrations.
Most Indians eat Murukku throughout the year, not only during the festival period. Families tend to have favorite ways to prepare the snack, which is often served with tea. It is also offered to children and visitors. The ingredients may vary a bit, but the shape usually is spiral that is one of the most characteristic of this chaat.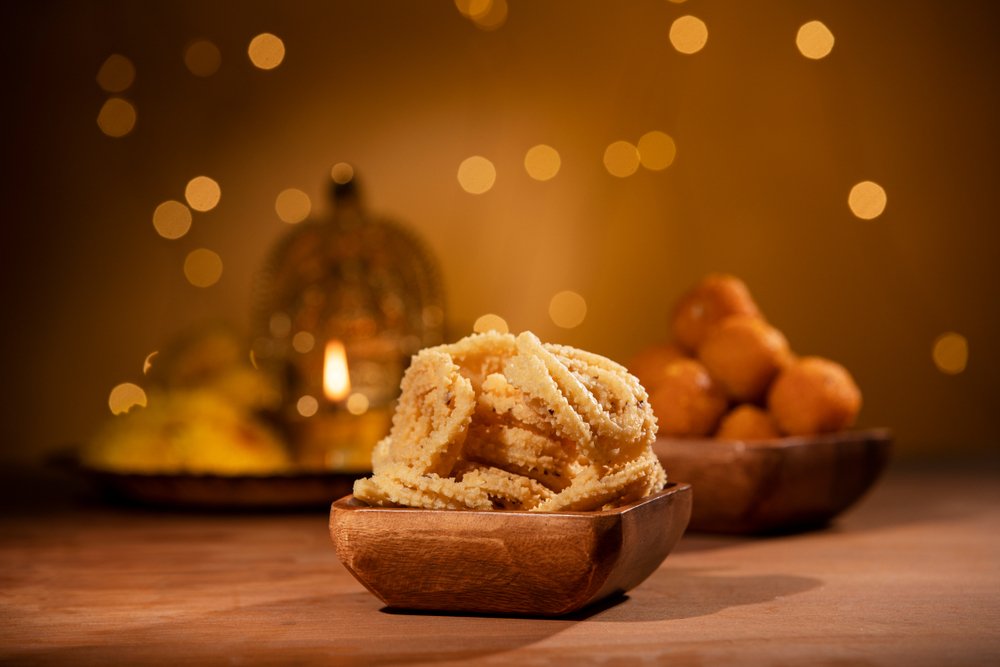 Murukku typically includes rice flour, black beans known as ur flour, butter, water, salt and other seasonings. These slow roasted rice and bean flours are then ground into a powder. This can be very time intensive, and therefore many chefs buy pre-ground flour. All the ingredients are combined in a doughy mass.
The first versions of the snack are rolled apart, for the first time in long snake shapes and then in flat spirals. Modern chefs often use molds or presses. The finished products are fried, usually in coconut oil until crispy.
Any variation is almost endless. Many cooks add green lentils or other beans for an appetizer, bringing it more in line with the traditional vegetable dishes. Chopped vegetables, especially peppers and chili peppers are also used. The finished products can also be sprinkled with sesame seeds or coarse salt immediately after being removed from the oil.
Murukku is appetizers loved by Indians from all over the world. The indigenous communities of the United States, Canada, and throughout Europe have introduced the morsel to a very diverse group of people. In some areas, especially in the United Kingdom, Murukku products are often sold commercially along with chips and other processed snacks. Most consumers in the UK know fresh and elaborate forms of snack like Chakli. Chakli is the Gujarati word for Murukku.
Prep Time
: 20 mins ♥
Cook Time
: 20 mins ♥
Total Time
: 40 mins ♥
Yield
: 4 servings
Nutrition
: 47 calories, 1.2 grams fat
Ingredients
:
1 cup rice flour
1 tbsp all-purpose flour
1 cup sour cream
5 tbsp pea flour
5 tbsp butter
1 tsp cumin seeds
1 tsp sesame seeds
Salt to taste
Water
Oil for frying
Recipe Method
:
In a medium sized pot mix the rice flour, all-purpose flour, pea flour, cream, sesame seeds, cumin seeds and salt. Soften the butter and incorporate the mixture to create crumbly dough. Add water in small amounts and knead up to create soft dough. Make sure there are no air bubbles. Wrap the sheet of dough into a sheet of plastic wrap and let rest for
15 minutes.
Do spirals first on sheet of clean paper towels.
Heat the oil in a pan over medium-high heat using sufficient amount of oil to submerge all the murukkus without touching each other. Carefully transfer the murukkus in hot oil. Fry until golden brown.
Be careful since the cumin seeds might burn within murukkus.
Remove from the oil with a skimmer and arrange them on a sheet of absorbent kitchen paper to drain excess oil. Allow to cool. Store the chakli in an airtight box or put them under vacuum at room temperature to preserve the fragrance. They will keep for a few days in a dry container.